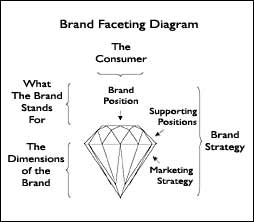 Despite the fact that the number of Brands in the marketplace has increased by hundreds of thousands since 1990¹, the Brand still remains one of the most valuable and singular assets an enterprise can possess – thus the importance of managing it with wisdom.
The proliferation of Brands has, however, made the management of a Brand even more challenging and more critical to the success of an overall enterprise. Remember that, fundamentally, customers choose a Brand because of what it stands for, often even more so than for the benefits of a specific product or service.
In the past, Brand Management paradigms stressed the unchanging quality of the Brand. Today, this perspective can seriously interfere with the organic development of the Brand. Wise Brand managers now realize that it is natural for a Brand to change over time, and that it is in the best interest of the Brand to do so, lest it should loose its relevance to its target audience.
There is much confusion about how to manage a Brand. Many believe that change should be minimized to present a consistent identity, and that the Brand should not change, at the risk of losing its loyal franchise. But then, often after a period of incrementally increasing irrelevance, such a static approach ends in the need to reposition the Brand to catch up with its market.
This need for repositioning demonstrates that there needs to be a more organic, more natural way to develop the Brand without suffering recurring periods of declining relevance.
One way to think about natural Brand development is in terms of faceting the expressions of a Brand. We can liken this approach to creating a brilliantly cut diamond.
A Brand with history and dimensionality has various facets which have been de facto developed and of which the consumer has Brand Awareness. Marketing against such facets, dimensions, or aspects can be compared to allowing your customer to see the cut of the Brand much as one would view a well-cut diamond by allowing the light to shine through it from various angles.
While there is a very visible, primary main face to the diamond, secondary and tertiary facets can also be cut from the stone to provide light and brilliance, shape and symmetry, and contribute value. A Brand with depth is no different from a well-cut stone. Such a faceted approach makes obsolete the days when a Brand was a one-dimensional entity.
The primary facet of the stone is the Brand Position, for it is only through the Brand Position that the facets can be focused and leveraged. Once the Brand is positioned, leveraging the various dimensions of the Brand creates different relationships and allows the natural evolution of the Brand to occur. By displaying its varied dimensions to communicate the depth of the Brand, the Brand secures the space it needs to grow, change and evolve through new expressions of itself. By strategically considering which facets should be shown in a particular situation, we show the Brand at its most appropriate, without losing track of its unity – which, by definition, can almost never be shown in its entirety.
All Brands possessing a history have a dimensionality upon which the Brand Strategy can draw to present the complexity and richness of the Brand. Like light reflected through a brilliantly cut diamond, the Marketing Strategy should devise ways to portray the Brand in all its richness.
Brand Faceting, as a Marketing Strategy, works in the area of subtle and incremental change to produce an evolutionary effect, and to reduce the risk of losing your existing franchise by making an uncharacteristic shift that your customer, present or pursued, doesn't follow.
Where the Brand use to be a tool of Marketing, now Marketing is in service to the Brand.
¹The United States Patent and Trademark Office has issued 1,058,828 trademarks since 1990, and this is only a partial number of how many Brands there are across the total economy.
Copyright © 2001 KLM, Inc. All Rights Reserved.
People in Australia buy more medicaments per human than any other area. The variety of medicines provided by online drugstores is definitely a contributing factor to recipe remedy abuse epidemic. What points folk look for when they plan to purchase some medicaments? Ordering medications on the Web can be a best idea, as long as you do it responsibly. Numerous remedies are used to treat Bacterial Conjunctivitis. Many folk buy online such medicaments like Cialis. What about free cialis coupon and sexual soundness? Did somebody tell you about cialis.com free sample? On occasion people are looking for medications to resolve sexual health problem. Erectile dysfunction can be an early warning sign of grave medic problem. Why it happen? What kinds of professionals treat sexual health problems in men? Ask everyone and he will answer that any remedy has side effects. Before buying Cialis or other medicament, tell your dispenser if you have any allergies. This product may contain inactive ingredients, which can cause other problems. Usually online pharmacy which is ready to sell such drugs like Cialis without a valid recipe is fraudulent. When you buy from an unknown web-site, you run the risk of getting faked medicaments.