The New Brand Valuations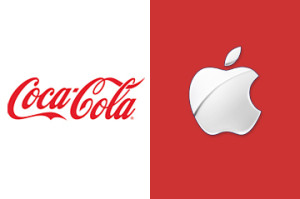 Interbrand just came out with their annual valuations of the top 100 brands in the world. For the first time in the 20 year history of brand valuations, Coca-Cola is not the #1 brand in the world! This year Apple Computer, valued at $98.3 billion, has taken their place, and Coca-Cola, while growing over prior year, is at $79.2 billion, and has fallen to #3 in the ranking.
Is Coke showing its age as our world becomes more entranced with technology than soft drinks? Probably. It use to be that consumer brands and technology were two widely different categories, but with the likes of Apple Computer they are merging and consumer products are coming to mean technological products.
In fact, 8 of the top 10 global brands in the 2013 valuations are technology brands, those being: Apple, Google ($93.3 b), IBM ($78.8 b), Microsoft ($59.5 b), General Electric ($46.9 b), Samsung ($39.6 b), Intel ($37.3 b), and Toyota ($35.3 b). The non-technology brands are: Coca-Cola, and McDonald's ($42 b).
Total Corporate Assets
What do the new brand valuations tell us about the value of corporate assets?
Under the new wisdom about intangible assets, the value of brands, and intellectual property assets, "total corporate assets" now include the book value on the Balance Sheet and all of the intangible assets a company possesses as reflected in its total market capitalization.
Recent research on the S&P 500, largely conducted by Ocean Tomo, an intellectual capital merchant bank, suggests that the balance of "intangible to tangible assets" is usually around 40-65% intangible assets. This may surprise many readers.
Taking the new #1 brand in the world – Apple, how does its brand valuation stack up against the tangible to intangible assets balance across the blue chip index?
At $98.3 billion, the Apple brand is valued at 22% of its total market capitalization of $445 billion.
With consumer goods, where it is all about the brand, 22% of market cap would be considered a low valuation, and students of valuation would expect to see a strong brand worth 40% or more of total market capitalization. Coke suggests this with its brand valued at $79 billion or 48% of its market cap at $165 billion.
But sophisticated technology companies, with extensive patent and trade secret portfolios that are often made up of tens of thousands of individual patents, may overshadow in value even the most valuable single brand in the world today.
If the total market capitalization of Apple Computer is $445 billion, and given that intangibles are generally made up of brands and patents, a "quick ratio" of the patent portfolio can be obtained by subtracting the book value ($176b) and the brand value ($98b) from the total market capitalization of the company, to get a patent and trade secret portfolio value of $171 billion dollars or 38.4% of the total market cap. The patents are worth almost two times the brand at Apple Computer – but, despite it's being a very strong brand, it is a technology company.
A general rule of thumb is that in large companies the intangible assets account for two-thirds of the total company value, with the brand possessing the greatest intangible value in consumer products, and the patents possessing the greatest intangible value in high technology companies. How does the theory hold up in this case?
The Apple intangibles, at $269 billion, do account for 60% of the value of the company, with the patent portfolio, at 38.4%, almost exactly at two-thirds of the intangible asset portfolio, and the brand at 22% almost exactly one-third of the portfolio.
The theory, with its rules of thumb, holds well in this case. In fact, this is a textbook case, because the theory would have predicted Apple to be at 40% patents and 20% brand and been almost exactly correct.
As a general principle, when thinking strategically about total corporate assets, the intangibles are often around 60% of total corporate assets in a modern company, and the intangibles are heavily weighted toward brands for primarily consumer products, and toward patents for highly technological products.
People in Australia buy more medicaments per person than any other area. The variety of medicines provided by online drugstores is definitely a contributing factor to recipe remedy abuse epidemic. What points men look for when they plan to purchase some medicaments? Ordering medications on the Web can be a best idea, as long as you do it responsibly. Numerous remedies are used to treat Bacterial Conjunctivitis. Many humanity buy online such medicaments like Cialis. What about free cialis coupon and sexual health? Did somebody tell you about cialis.com free sample? On occasion men are looking for medications to resolve sexual heartiness problem. Erectile malfunction can be an early warning sign of grave medicinal problem. Why it happen? What kinds of professionals treat sexual heartiness problems in men? Ask everyone and he will answer that any remedy has side effects. Before buying Cialis or other preparation, tell your pharmacist if you have any allergies. This product may contain inactive ingredients, which can cause other problems. Usually online pharmacy which is ready to sell such drugs like Cialis without a valid formula is fraudulent. When you buy from an unknown web-site, you run the risk of getting faked medicaments.